---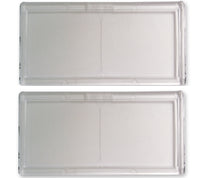 Fits model: Any Antra™ helmets, may also fits lots of other brand helmets. Pack of 2 and very affordable!
Features:
Make welding more clear for people who needs magnifying.
Slide on and fixed! Easy installation!
Exact Fit Antra™ welding helmets
Fits lots of other models! 
Pack of 2 PCs! Very affordable!
Specifications: 
Size: 4.25X2"X0.15"
Quantity in Pack: 2 set
Package Size: 5.6 x 5.2 x 0.5
Package Weight: 2 oz
Operating Temperature: -10°C- 55°C (14°F-131°F)
Storage Temperature: -10°C- 55°C (14°F-131°F)
Antra™ Warehouse Sale is committed to 100% customer satisfaction! If you are unsatisfied for any reasons, you may return your purchase within 30 days of the ship date. NO questions asked and NO restocking fees!
 1. Email info@antectrade.com or call 1-888-450-6788 with your order id to receive your return authorization. If the item is defective or damaged in shipping, we will issue a pre-paid return shipping label. In all other cases, buyer is responsible for return shipping and may ship back the item using the carrier of his/her choice.
 2. We do not accept any returns after 30 days from ship date.
 3. If you believe your package was damaged in shipping, we require that you contact us within 3 days of delivery and we will work with you to quickly resolve the issue.
 4. To cancel an order, please contact Antra™ as soon as possible because we ship out orders very fast! If your order has not yet been shipped, we will immediately refund your payment. If the order has been shipped, we will refund your payment as soon as we have received the item(s) back from your and processed them at our warehouse.
 5. All refund recipients will receive an email confirmation for their records.
 6. Return address will be shown when you fill out the return form.
Ask a Question
Hi I bought an Antra™ AH6-260 a few years ago its a great helmet, but my eye site is getting pretty poor now, the magnifying lens pack on your website , does it fit on the inside of the helmet or the outside,I took out the inside lens and it measures 100mm x 46mm ,does the magnifier replace the inner lens as it does not have the same measurements thanks for your help Alex Alex

Hi, 

The magnifying lens will fit on inside of the helmet, just on top of the interior lens. 

No need to take the interior lens off.